Exhausts
Here at The Tyre Group we have access to a massive range of top brand car exhausts to fit most popular makes and models - all at highly competitive prices. If you require a quote on vehicle exhaust systems, contact your nearest Tyre Group branch and our friendly staff will be happy to help with any questions you might have.
How does the exhaust system work?
There's a lot more to your car's exhaust than you might think. The exhausts main purpose is to channel away all noxious fumes generated by your engine; like the environmentally destructive gas carbon monoxide. The exhaust also has a big role to play in controlling the noise of the car. It also boosts engine performance as well as improving fuel consumption.
Front Pipe – takes gases from the engine and channels them into the exhaust
Catalytic Converter – turns poisonous gases into less dangerous gases such as carbon dioxide
Silencer – reduces the noise of the engine and exhaust functions
Tailpipe/Exhaust Pipe – further reduces noise and channels the bad gases away from the vehicle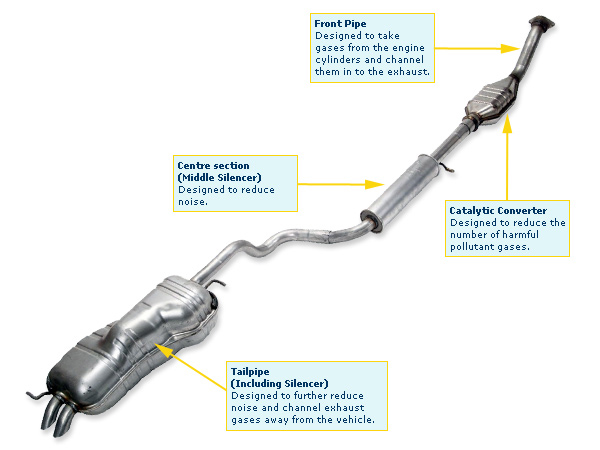 Identifying Problems
Because all of the exhaust system, except the exhaust pipe, is tucked away underneath the car, it's not always easy to notice problems developing. However if you listen carefully its easy to spot a problem. The noise your exhaust makes can tell you a lot about its general condition.
A loud roar could signify a hole in your exhaust pipe or corrosion of the silencer
A persistent rattle may mean part of the exhaust is loose or misaligned
A tinkling sound could also be a problem with your silencer
It's important to perform a visual check if you do notice an unusual sound. Look out for rusting or cracks in the pipes around joints or seams. If not already the source of a suspicious sound, problems such as these could soon turn into bigger issues.
It's important to make sure your exhaust system is kept in tip-top condition. A problem with the system might result in gases not being drawn away from the engine quickly enough. If this happens, your vehicle engine has to work harder and more fuel will be consumed. If the poisonous gases enter the cabin of the vehicle, passengers and drivers can become very ill.
If you do notice any of the above symptoms, don't worry, it's not always bad news! As the exhaust system is made up of so many differing parts, sometimes only a minor adjustment is needed to cure the problem, or the replacement of once element at minimal cost.
If you believe your exhaust system might have a problem, or you have any other concerns or queries with your exhaust find your nearest Tyre Group branch now. Our fully trained exhaust specialists will be happy to carry out a comprehensive inspection - completely free of charge! Our staff will never complete any work without discussing it with you first.